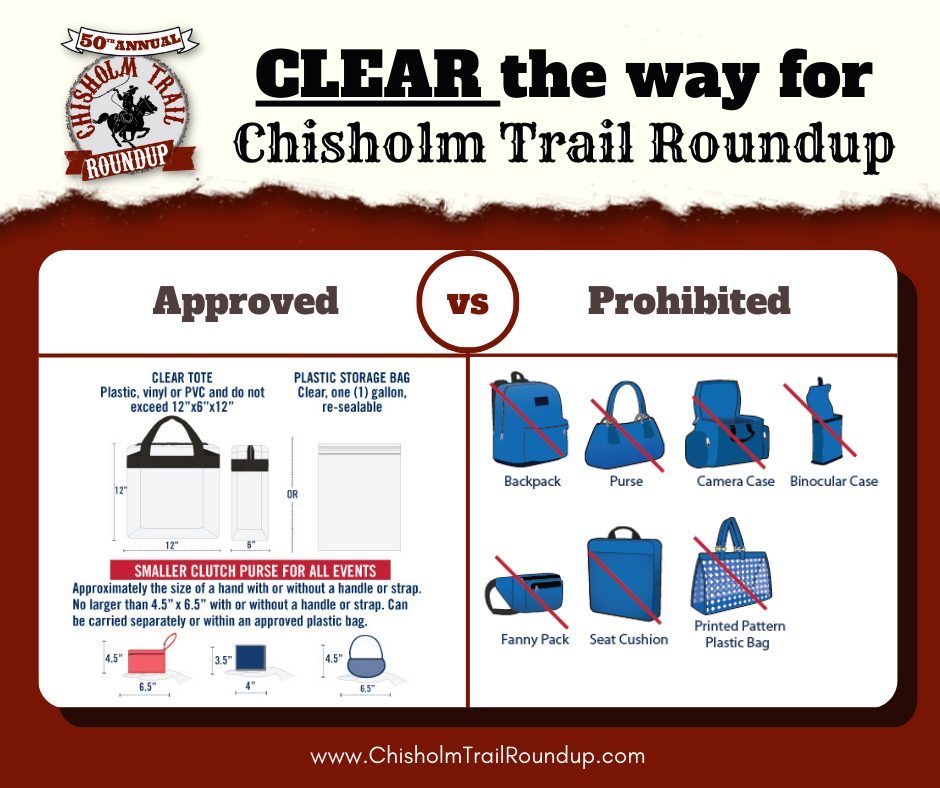 To provide a safer environment for the public, the Lockhart Chamber of Commerce has implemented a policy that limits the size and type of bags that may be brought into Chisholm Trail Roundup. We strongly encourage guests not to bring any type of bag into Chisholm Trail Roundup, but attendees will be able to carry the style and size bags depicted in the image. 
There are no provisions at Chisholm Trail Roundup to check prohibited bags or items at the park. Guests carrying non-approved items will be asked to return prohibited items to their vehicles. 
Public safety is our top priority, and Chisholm Trail Roundup guests deserve to be in a safe and secure environment. We appreciate our guests' cooperation. Read the full press release HERE. 
Para brindar un entorno más seguro para el público, la Cámara de Comercio de Lockhart ha implementado una política que limita el tamaño y el tipo de bolsas que se pueden llevar al Chisholm Trail Roundup. Recomendamos encarecidamente a los invitados que no traigan ningún tipo de bolso al Chisholm Trail Roundup, pero los asistentes podrán llevar bolsos del estilo y tamaño que se muestran en la imagen.
No hay disposiciones en Chisholm Trail Roundup para revisar bolsas o artículos prohibidos en el parque. Se les pedirá a los invitados que lleven artículos no aprobados que devuelvan los artículos prohibidos a sus vehículos.
La seguridad pública es nuestra principal prioridad, y los huéspedes de Chisholm Trail Roundup merecen estar en un entorno seguro y protegido. Agradecemos la cooperación de nuestros huéspedes. Lea el comunicado de prensa completo AQUÍ.