On May 26, 1999 House Resolution #1024 was adopted by the 76th Texas Legislature, naming Lockhart the 'Barbecue Capital of Texas', then by the Senate in the Fall of 2003. No visit to Lockhart would be complete without eating BBQ at one of our 'World Famous' BBQ Restaurants!
El 26 de mayo de 1999, la Resolución de la Cámara #1024 fue adoptada por la Legislatura 76 de Texas nombrando a Lockhart como la 'Capital de la parrillada de Texas', luego por el Senado en el otoño de 2003. Ninguna visita a Lockhart estaría completa sin comer una parrillada en uno de nuestros ¡Restaurantes de barbacoa 'mundialmente famosos'!
Black's BBQ
Black's Barbecue, located in Lockhart, Texas is Texas' oldest major barbecue restaurant continuously owned by the same family. Find out why the Travel Channel featured Black's on their Barbecue Paradise show and what's kept generations of Texans coming back for more.
Black's Barbecue, ubicado en Lockhart, Texas, es el principal restaurante de parrilladas más antiguo de Texas, propiedad continua de la misma familia. Descubra por qué Travel Channel presentó Black's en su programa Barbecue Paradise y qué ha hecho que generaciones de tejanos regresen por más.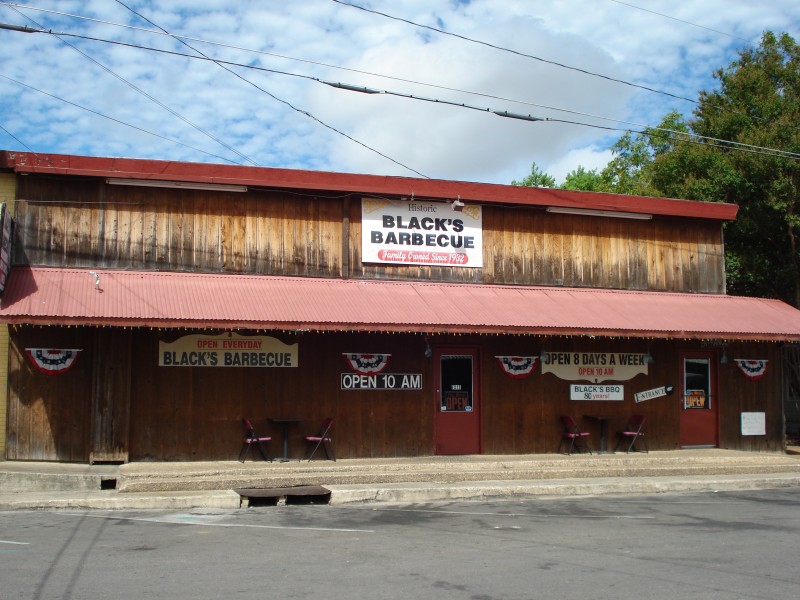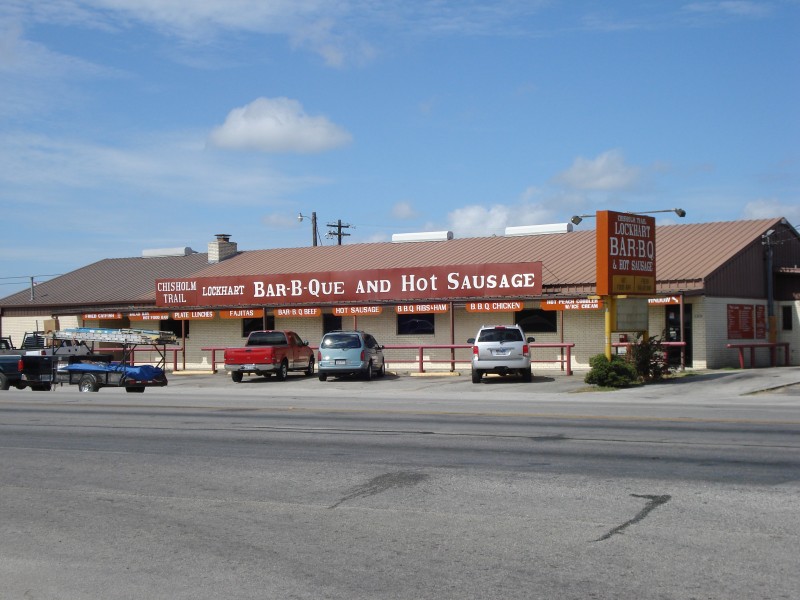 Chisholm Trail Barbecue
Chisholm Trail serves up a tasty meal. The restaurant packs in a daily crowd made up mostly of locals and it too, has made the Texas Monthly list of Texas' best barbecue restaurants. Chisholm Trail Bar-BQ has a cafeteria style serving line and offers a large selection of salads and side dishes to go along with the sausage, brisket, ribs, turkey chicken and fajitas.
Chisholm Trail Barbecue
Chisholm Trail sirve una comida sabrosa. El restaurante tiene una multitud diaria compuesta principalmente por lugareños y también ha figurado en la lista de los mejores restaurantes de barbacoa de Texas Monthly. Chisholm Trail Bar-BQ tiene una línea de servicio estilo cafetería y ofrece una gran selección de ensaladas y guarniciones para acompañar salchichas, pechuga, costillas, pavo, pollo y fajitas.
Smitty's Market
Smitty's Market has been named one of the top five barbecue restaurants in Texas by Texas Monthly Magazine. Nina Schmidt Sells established Smitty's Market in 1999 in the building that housed her father's Kreuz Market for more than 50 years. The market sits in the same location where barbecue has been sold in Lockhart since the turn of the last century.
Smitty's Market ha sido nombrado uno de los cinco mejores restaurantes de barbacoa en Texas por la revista Texas Monthly. Nina Schmidt Sells estableció Smitty's Market en 1999 en el edificio que albergó el Kreuz Market de su padre durante más de 50 años. El mercado se encuentra en el mismo lugar donde se vende barbacoa en Lockhart desde principios del siglo pasado.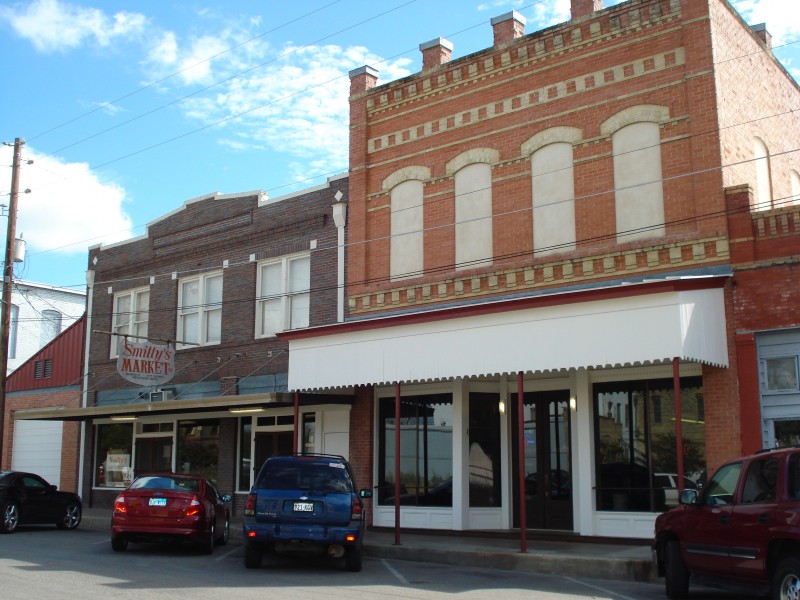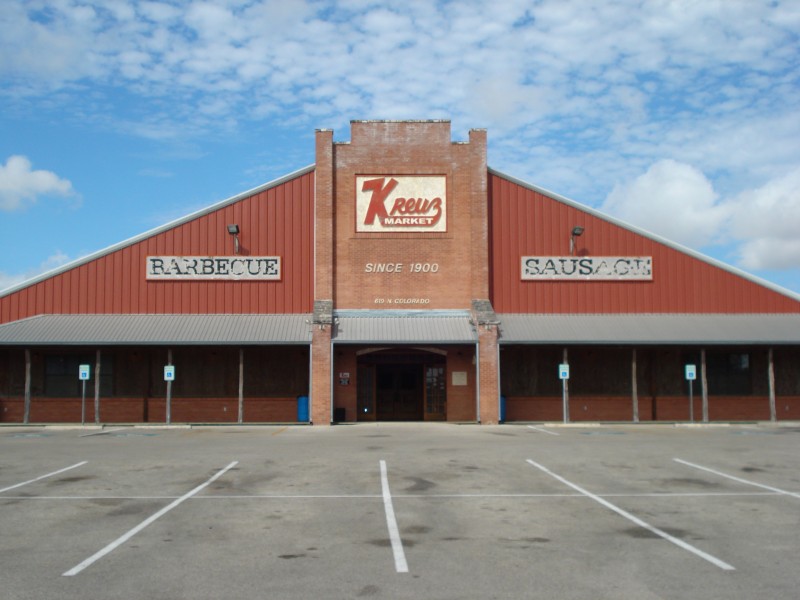 Kreuz Market
Kreuz Market moved from its original location started in 1900 by Charles Kreuz as a meat market and grocery store to its newer, expanded facility a quarter of a mile north of the old location in 1999. Along with the new building came some new items on the Kreuz menu, most notably: pork spare ribs, beans, German potato salad, sauerkraut, and a new jalapeno cheese sausage, but don't look for any barbecue sauce or forks as they are still missing in action from Kreuz Market to this day!
Kreuz Market se mudó de su ubicación original iniciada en 1900 por Charles Kreuz como un mercado de carne y una tienda de abarrotes a su nueva instalación ampliada un cuarto de milla al norte de la antigua ubicación en 1999. Junto con el nuevo edificio llegaron algunos artículos nuevos en el Menú de Kreuz, en particular: costillas de cerdo, frijoles, ensalada de patata alemana, chucrut y una nueva salchicha de queso jalapeño, pero no busques salsa barbacoa ni tenedores, ya que todavía faltan en acción en el mercado de Kreuz hasta el día de hoy.
Riley's Pit BBQ
Riley Salas -- Pit Master, Owner
Riley started in the barbecue business as a teenager, selling firewood to barbecue joints in Central Texas along with his dad.  He learned the barbecue end of the business from two great men, A.W. Reid in Luling and Floyd Wilhelm in Lockhart, before striking out on his own.
Riley's Pit BBQ
Riley Salas - Pit Master, propietario
Riley comenzó en el negocio de las barbacoas cuando era adolescente, vendiendo leña a las barbacoas en el centro de Texas junto con su padre. Aprendió el lado de la barbacoa del negocio de dos grandes hombres, A.W. Reid en Luling y Floyd Wilhelm en Lockhart, antes de lanzarse por su cuenta.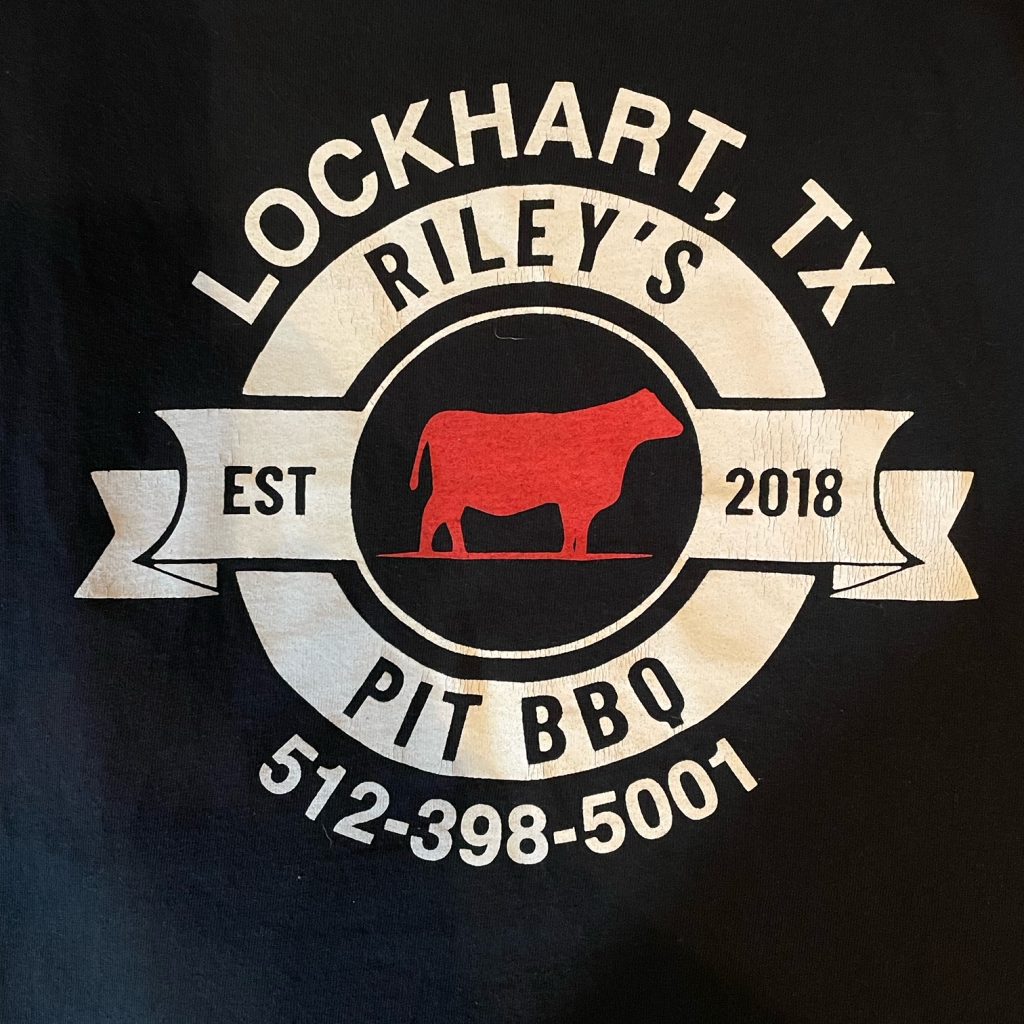 Terry Black's Barbecue
Born and raised in Lockhart, Texas, Terry Black passed down generations of barbecue knowledge learned from his experience in the Lockhart BBQ scene.  His twin sons Michael and Mark Black bring their very own style of Central Texas BBQ straight back to Lockhart for you and your family to enjoy!
Terry Black's Barbecue
Nacido y criado en Lockhart, Texas, Terry Black transmitió de generación en generación el conocimiento de la barbacoa que aprendió de su experiencia en la escena de la barbacoa de Lockhart. ¡Sus hijos gemelos, Michael y Mark Black, traen su propio estilo de barbacoa central de Texas directamente a Lockhart para que usted y su familia disfruten!